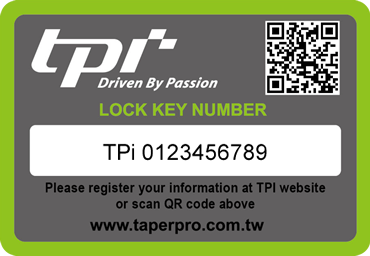 Dear Customer,
To enjoy our after-sales services, end users no longer have to keep their registration cards. Now, end users can have their key code registered effortlessly on the TPi website by scanning the QR code on the registration card. Each end user can request a key replacement free of charge once and simply pay for the delivery.
Don't hesitate to be a TPi member and register the key code now. http://www.taperpro.com.tw/en/member/register
Already a member? Please log in and add your lock key number under your account, you don't have to troublesome keep your register card. When you lost your key, you just need log in and simply click to finish the application, the spare key will deliver to your door! http://www.taperpro.com.tw/en/member/signin
If customers have difficulty registering the key code, please go to "Contact" page and leave the key code. TPi will help you register the key code as soon as possible.
TPi Sales Team
***Due to the cancellation of flights by airlines, airmail, parcel and EMS services to United Kingdom are suspended from Dec. 28, 2020.